Many of our South African readers and international alike have heard of Trevor Noah. A great entertainer and my favorite comedian from South Africa who resides in USA and is the new host of the daily show. How ever there are now rumors of Trevor Noah binary trade millions.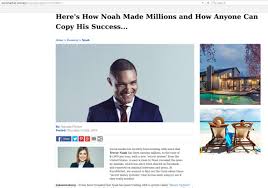 Don't fall for scams like the Trevor Noah Bitcoin Revolution. Instead, trade directly with the top broker for South African traders – IQ Option South Africa
Trevor Noah Bitcoin Interview
The internet has been flooded by articles about Trevor Noah Bitcoin interview and whispers of how Noah has made millions doing Binary Options Trading with some secret trading system out there. So is this true? does Trevor Noah Binary Trade?
Simple answer is NO! Funny guy Trevor Noah does not trade binary options nor is he even familiar with this trading form or needs to be. He does perfectly well been an entertainer (He had mentioned this on twitter sometime back). Go ahead and ask him yourself via social media guys, and see what he will tell you. Mr. Noah has become successful due to his smarts and his talent. Hence he is where he is today. Not by using some secret binary options trading strategy as unscrupulous sites claim.
Mr. Noah is a big name in the entertainment industry. Especially within South Africa. So these heartless websites and non regulated brokers take advantage of his following and peoples gullibility. So that they may take your hard earned money. "Secret binary options trading systems" that promises tons of money in days are just there to take your money.
So South African Traders and international, be careful and keep away from such please. Check out this article I found quite interesting on this crap Millionaire blueprint so called system.
Bitcoin Revolution South Africa Trevor Noah
According to some recent "reports", Trevor Noah is earning millions with the new type of system – the Bitcoin Revolution. The links in such articles lead to the Bitcoin Trader, which, if you checked across the internet, its been reported as a scam that only takes the money of South African Traders. Trevor Noah is just doing fine with his TV show, so its hard to believe he would use something called the Bitcoin Trader which uses cheap tactics to lure in gullible people. Please dont believe that any Trevor Noah powered crypto revolution is coming your way. You can trade cryptocurrencies with CFDs or directly if you feel so, but don't fall for the get rich quick schemes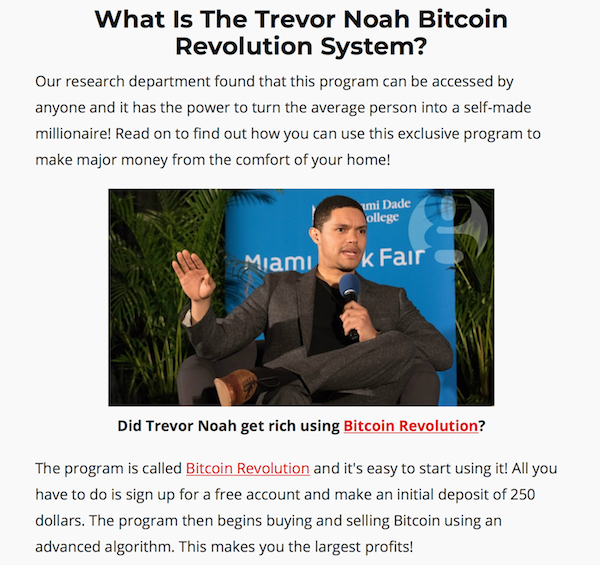 Trevor Noah Investment Scheme
So I guess the question on your mind, is Binary Options a Scam? The answer is No, people are making good profits trading Binary Options. Trevor Noah investment scheme may or may not include binary options, but you cant be stupid about it and just sign up with any binary options broker or binary option system that is promising the world. Rule of thumb if it sounds to good to be true it usually isn't true.
Furthermore trading is not a get rich scheme it requires time, effort and a strategy. 
So peruse this website as it is created to sift through all the non sense surrounding this form of trading to allow you to really learn how to earn with binary options trading.
The best broker for South African traders by far is IQ Option. IQ Option is a regulated and licensed broker with a one of the lowest minimum deposits in the market – only $10.